Photo Awards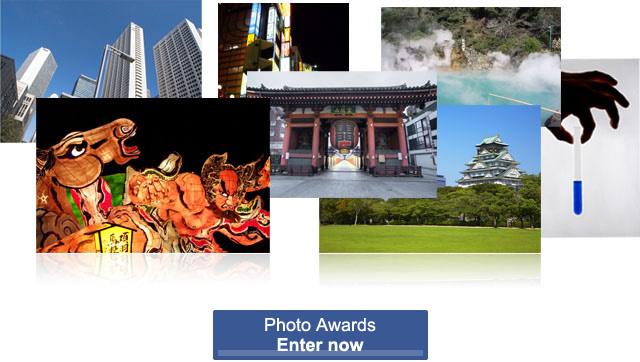 --------------
22nd November 2012
Results of the JSPS 80th Anniversary Photo Competition


--------------
30th October 2012
Thank you to everyone who has submitted photographs for our 80th Anniversary Photo Competition. In each of the 4 categories we have received the following number of entries: Research: 16 Arts and Culture: 35 Travel: 42 Vintage: 1. We have selected 2 entries for a prize in each category, apart from the Vintage category. If you have not received notification by now that you have been shortlisted for a prize, then we are sorry but your entry has not been successful. Prize winners and their photographs will be announced on this webpage after our main 80th Anniversary Event on November 14th.
--------------
16th October 2012
Entry now closed.
--------------
July 2012
To commemorate the 80th anniversary of JSPS, JSPS London is holding a photo competition. Photos can be sent in by researchers based at institutions in the UK who have been to Japan on a JSPS funded programme. The photos submitted should have been taken by the researcher during the time of being Japan on a JSPS programme and should fall into one of these 4 categories:
"Research", "Arts and Culture", "Travel" and "Vintage".
The first 3 categories we hope are self-explanatory, in the fourth category of "Vintage", please submit photos taken in the 1990's or before that show aspects of research, arts and culture and travel in Japan. For the "Vintage" category, please submit photographs in as high a resolution as possible. A limit of 3 photos per category can be submitted by any one researcher.
Entries will be accepted between: 1/08/2012 to 17:30 on 15/10/2012
Winners of each of the 4 categories will be announced prior to the 80th anniversary event in November 2012.
Prizes:
Each winner will receive:
Travel expenses (within the UK) paid to London plus 1 night accommodation in a hotel and a VIP ticket to attend the JSPS 80th anniversary event on 14 November 2012.
Ways to Submit Photographs:
1.Facebook. Sign up to the JSPS' 80th Anniversary Photo Awards Facebook page and upload your photo(s) to the "add photo/video" section.
2.E mail your photo(s) to: enquire@jsps.org
In using either method to submit photo(s), please remember to include the following information: 1.Title of photo(s), 2. Description of the photo(s) (please give some brief background information about the photo(s) explaining where and when it was taken etc.) 3. Contact information; telephone and e mail address and 4. Please remember to upload the photo(s) itself!
Rules
Please note that by entering the photo competition you are automatically accepting the following terms and conditions:
Entries must be submitted by 17:30 on 15 October 2012
The individual category winners will receive travel expenses to London (economy class) and hotel accommodation for one night in London on 14 November 2012.
Each photo entry should be the entrant's own work and should not contain personally identifiable information about the entrant or any other person(s) without their permission and in the case of minors; permission should be sought from the adult responsible for them. If a photo entry is found to infringe upon the copyrights, trademarks, contract rights, or any other intellectual property rights of any third person or entity, or violate any person's rights of privacy or publicity, it will be withdrawn from the competition and any monies paid must be given back to JSPS London.
Each photo entry should not contain any infringing, threatening, false, misleading, abusive, harassing, libelous, defamatory, vulgar, obscene, scandalous, inflammatory, pornographic or profane content.
Each photo entry should not contain any material that could constitute or encourage conduct which would be considered a criminal offence, give rise to civil liability, or otherwise violate any law.
JSPS recognizes the entrant as the author of the image, retains full ownership of the copyright of each photo entry and it is the entrant's responsibility to protect any photo in the competition from later image misuse by a third party.
All entrants understand that any image submitted to the competition may be used by JSPS for promotional purposes only.
All entrants must be able to supply a high resolution image suitable for printing in media should the image be required.
Winners will be announced online.