Other Events
Pre-Departure Seminar and Alumni Evening 20/10/2010 (Report)
On 20th October 2010 a Pre-Departure Seminar for 3 categories of JSPS Awardees; Postdoctoral Fellowship Short Term and Standard Term and Invitation Fellowship awardees was held in the lecture hall of the JSPS London office building. The seminar started with welcoming remarks from the Director of JSPS London, Professor Kozo Hiramatsu. This was followed by a short self introduction by each participant so similar areas of research and institutions being visited in Japan could be linked. This time a significant number of awardees will be visiting Tokyo, Kyoto and Nagoya Universities. The seminar was presided over by Ms. Polly Watson, International Programme Coordinator of JSPS London who at first explained the purpose of the event and about the different presentations that were to follow.
The first presentation by Mr. Takeshi Sekiguchi, Deputy Director gave an essential introduction to JSPS and general information about the JSPS Post Doctoral Fellowship, both Short Term and Standard Award as well the Invitation Fellowship. The next presentation was given by a past JSPS fellow and active member of the UK-JSPS Alumni association. Dr. Chris Pearson of the Rutherford Appleton Laboratory has been awarded several JSPS Fellowships over his career and has extensive experience of doing research and living in Japan. He gave very thoughtful and practical advice about living in Japan during the seminar to prepare our newest awardees and help them get the most out of a JSPS Fellowship experience.
In the final part of the programme, JSPS London was very pleased to have two guest speakers from other distinguished funding organizations present to speak about further funding opportunities to do research in Japan. They were Dr. Dorothy Wang, Scheme Manager, Grants of the Royal Society and Dr. Edward Clarke, Senior International Manager of the EPSRC.
The seminar ended with a question and answer session giving participants the chance to raise questions and concerns about JSPS programmes. Areas covered included obtaining visas, accommodation options and payment of allowances.
A link to each presentation given during the seminar can be found in the programme for the event below:

Guest Speakers: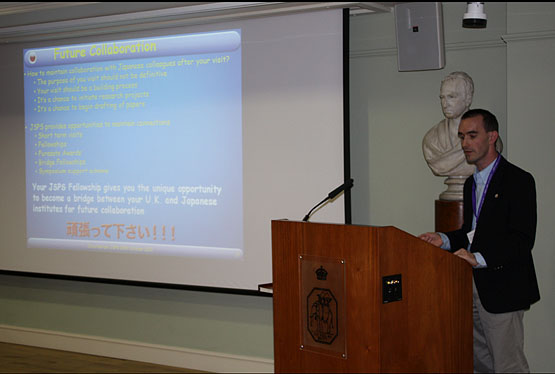 Dr. Chris Pearson, Rutherford Appleton Laboratory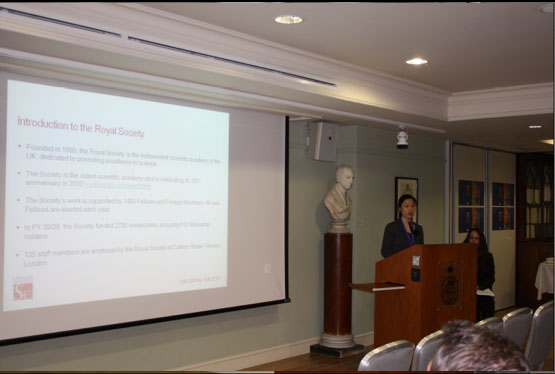 Dr. Dorothy Wang, The Royal Society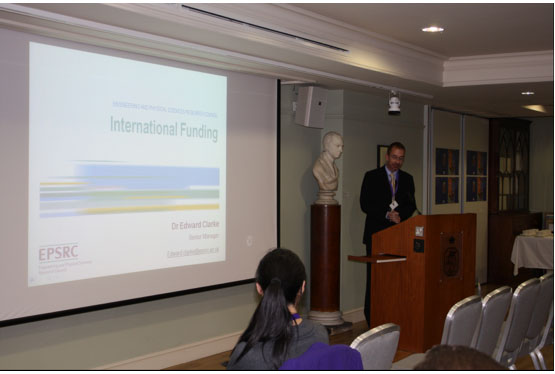 Dr. Edward Clarke, EPSRC
After the pre-departure seminar, the UK-JSPS Alumni Association held an alumni evening for networking among members and new JSPS fellows in a relaxed atmosphere. Dr. Martyn Kingsbury, the Chair of the UK-JSPS Alumni Association made an opening speech in which he talked about the work of the UK-JSPS Alumni Association for the benefit of the newest fellows present. He mentioned in particular the progress of the two alumni re-visitation support schemes called the Furusato Award and Bridge Fellowship in building and sustaining networks across a wide range of research fields with the academic community in Japan. He also talked about the new alumni symposium scheme and wished the first awardee of this scheme, Dr. Ruth Goodridge of Loughborough University, all the best for her event in February 2011 on the topic of engineering the future of sport.
An award ceremony then took place for those granted either a Furusato Award, Bridge Fellowship or Symposium Scheme award in fiscal year 2010. During the ceremony, each awardee was invited to comment on the achievements of their research trip or event using one of these sources of funding.
In Fiscal Year 2010 the awardees were as follows:
FY2010 FURUSATO AWARDEES:
1st Call (March):
1. Dr. Pavel Karataev Department of Physics, Royal Holloway, University of London
Visiting: KEK: High Energy Accelerator Research Organisation
2. Professor Philip Newland School of Biological Sciences, University of Southampton
Visiting: Department of Biology, Yamagata University
3. Professor Achim Treumann North East Proteome Analysis Facility (NEPAF)
Visiting: Research Institute of Genome-based Biofactory, National Institute of Advanced Industrial Science and Technology (AIST), Sapporo
4. Dr. Irek Ulidowski Department of Computer Science, University of Leicester
Visiting: Graduate School of Information Science, Nagoya University
2nd Call (July):
1. Dr. Christopher Arrell Attosecond Laboratory, Quantum Optics and Laser Science, Imperial College London
Visiting: Laser Technology Laboratory, RIKEN Advanced Science Institute
2. Dr. David Book School of Metallurgy and Materials, University of Birmingham
Visiting: Department of Materials Science, Tohoku University
3. Professor Andy Furlong Department of Adult and Continuing Education, University of Glasgow
Visiting: Graduate School of Humanities, Tokyo Metropolitan University
4. Dr. Christian Harkensee Newcastle Hospitals NHS Trust affiliated with Newcastle University


Visiting: Institute for Molecular Life Sciences, Tokai University
FY2010 BRIDGE FELLOWSHIP AWARDEES:
1. Dr. Martin Cockett Department of Chemistry, University of York
Visiting: Chemistry Resources Laboratory, Tokyo Institute of Technology
2. Dr. Chris Pearson, Space Science and Technology Department, CCLRC RAL, Rutherford Appleton Laboratory
Visiting: Department of Infrared Astrophysics, Institute of Space and Astronautical Science (ISAS)
3. Dr. Jonathan Tyler Department of Earth Sciences, University of Oxford
Visiting: Ocean Research Institute, University of Tokyo
FY2010 UK-JSPS Alumni Association Symposium Scheme Awardee:
1. Dr. Ruth Goodridge Wolfson School, Loughborough University
Title: Sports Technology: Engineering the Future of Sport
Co Japanese Scientific Lead Institution: Tokyo Institute of Technology

Receiving their awards: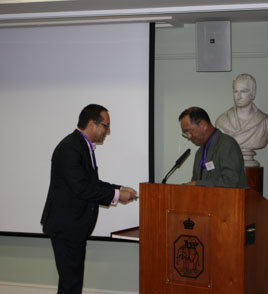 Furusato Awardee: Professor Andy Furlong, University of Glasgow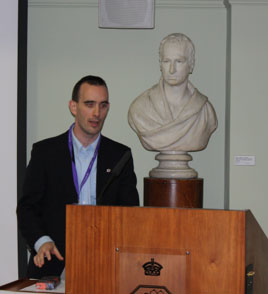 Bridge Fellowship Awardee: Dr. Chris Pearson, Rutherford Appleton Laboratory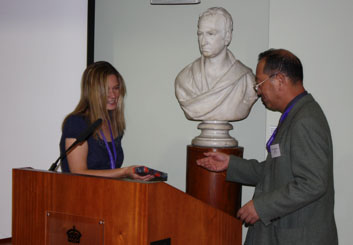 UK-JSPS Alumni Association Symposium Scheme Awardee:

Dr. Ruth Goodridge, Loughborough University
Finally, JSPS London would like to wish all of our new Fellows a successful research trip to Japan and we hope they will join the UK-JSPS Alumni Association on their return to the UK.