Events

05 Jun 2017 22 JULY/ Outreach Symposium & Concert: 'Medicine, Music, Melancholy and Madness: from Cause to Cure?' 

Outreach Symposium & Concert:
'Medicine, Music, Melancholy and Madness: from Cause to Cure?'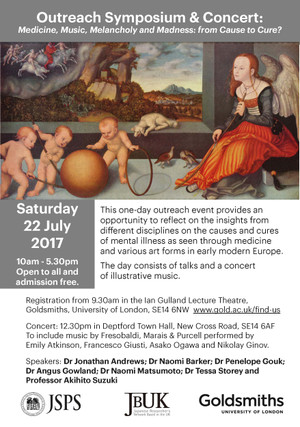 This one-day outreach event provides an opportunity to reflect on the insights from different disciplines on the causes and cures of mental illness as seen through medicine and various art forms in early modern Europe. The day consists of talks and a concert of illustrative music. Open to all and admission free.
Saturday 22 July.

Talks (10:00-17:30 (Registration: 9:30-)) at The Ian Gulland Lecture Theatre, Whitehead Building, Goldsmiths, University of London.

Concert (12:30-13:15) in the Council Chamber, Deptford Town Hall, Goldsmiths, University of London.
The Speakers

Dr Jonathan Andrews (History of Psychiatry, New Castle University)
Dr Naomi Barker (Historical Musicology, Open University)
Dr Penelope Gouk (Early Modern Intellectual Culture, University of Manchester)
Dr Angus Gowland (Intellectual History, University College London)
Dr Naomi Matsumoto (Historical Musicology, Goldsmiths)
Dr Tessa Storey (Early Modern History, Royal Holloway, University of London)
Prof Akihito Suzuki (History of Medicine, Keio University, Tokyo)
The Concert
by Emily Atkinson (Soprano); Francesco Giusti (Countertenor); Asako Ogawa (harpsichord), and Nikolay Ginov (Viola da Gamba). The programme includes: Girolamo Frescobaldi (1583- 1643), Capriccio III 'Sopra il cucho'; Marin Marais (1656-1728), Tableau de l'Opération de la Taille; and Henry Purcell (1659-1695) 'Bess of Bedlam', 'From rosy bow'rs'.
Contact
Dr Naomi Matsumoto (n.matsumoto@gold.ac.uk)
Dr Naomi Matsumoto trained as a signer at Aichi Prefectural University of Fine Arts and Music (Japan), Liceo Musicale di G.B. Viotti (Italy) and Trinity College of Music, London. Specialising in Baroque music, she sang in various concerts and opera productions during the 1990s. She then commenced her studies in historical musicology. She was awarded a PhD from the University of London in 2005 for her thesis 'The Operatic Mad Scene: Its Origins and Development up to c. 1700'. She has received several awards including the British Federation of Woman Graduates National Award, the Gladys Krieble Delmas Foundation British Award, and the Daiwa Anglo-Japanese Foundation Award. Currently, she is a lecturer in music at the Music Department, Goldsmiths and is working on Italian opera in the 17th and 19th centuries.
The flyer is available here (PDF).
This symposium is supported by JSPS.