Events

09 Jun 2017 23 JUNE/ UCL-IRDR Seminar 2017 Disaster in Japan: 2011 - The Latest Research 

UCL-IRDR Seminar 2017
Disaster in Japan
2011 - The Latest Research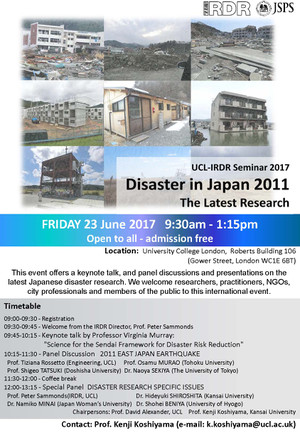 This event shows the Keynote talk, the latest Japan Disaster research and panel discussion to share knowledge each other. We welcome researchers, practitioners, NGOs, city professionals and the interested public to this international event. Admission is Free.
Date & Time: Friday, 23 June / 09:00am Registration starts.
Venue: Roberts Building 106, University College London (Gower Street, London WC1E 6BT)
(http://www.ucl.ac.uk/maps/roberts-106)
Timetable (subject to change):
09:00-09:30 - Registration
09:30-09:45 - Welcome from the IRDR Director, Prof. Peter Sammonds
09:45-10:15 - Keynote talk by Professor Virginia Murray:
"Science for the Sendai Framework for Disaster Risk Reduction"
10:15-11:30 - Panel Discussion 2011 EAST JAPAN EARTHQUAKE
Panelist:
Prof. Tiziana Rossetto (Engineering, UCL) Prof. Osamu MURAO (Tohoku University) Prof. Shigeo TATSUKI (Doshisha University) Dr. Naoya SEKIYA (The University of Tokyo)
11:30-12:00 - Coffee break
12:00-13:15 - Special Panel DISASTER RESEARCH SPECIFIC ISSUES
Panelist:
Prof. Peter Sammonds(IRDR, UCL)
Dr. Hideyuki SHIROSHITA (Kansai University) Dr. Namiko MINAI (Japan Woman's University) Dr. Shohei BENIYA (University of Hyogo) Chair person:
Prof. David Alexander, UCL
Prof. Kenji Koshiyama, Kansai University
Contact:
Dr Kenji Koshiyama (k.koshiyama@ucl.ac.uk)
The flyer is available here (PDF).
This symposium is supported by JSPS.