ZOLDNews

30 Nov 2015 Newsletter No.46 (August 2015-October 2015)now available

The latest issue of JSPS London's newsletter is now available online.
To view the publication click here. PDF(1.9MB).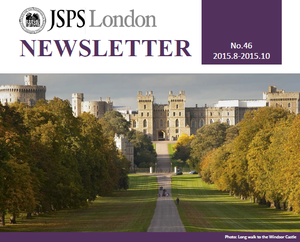 17 Nov 2015 Japan-UK Joint Workshop on Life Science and Biomedical Engineering

Time and Date: Seminar 14:15, Thursday 3rd December
(Netwoking reception 18:00)
Venue: Embassy of Japan, 101/104 Piccadilly, London W1J 7JT

16 Nov 2015 JSPS Programme Information Event at Imperial College London

Time and Date of Event: 12:00 - 13:05, Wednesday 9th December 2015
Venue: Lecture Theatre 1.47, Royal School of Mines, Imperial College London, South Kensington Campus

05 Nov 2015 JSPS SUMMER PROGRAMME 2016 FOR MPhil OR PhD STUDENTS

JSPS Summer Programme 2016
Application Deadline: Friday 15th January 2016
Fellowship to take place during fixed period: 14 June to 24 August 2016
Applications should be sent to the British Council Tokyo. Application guidelines and form are available on their website here:
www.britishcouncil.jp/en/programmes/higher-education/support-researchers
[ read more... ]

02 Nov 2015 Special Seminar "Funding system and current situation on Life Science Research in Japan"

Speaker: Professor Hiroshi Kagami, Shinshu University, Japan
Time and date: 16:00, Monday 9th November
Venue: Medical Sciences 131 A V Hill LT, UCL (University College London)
Professor Hiroshi Kagami is a Programme Officer at the Research Center for Science Systems, JSPS. In this lecture he will be sharing with the audience the latest news on funding systems and life science research in Japan. Please feel free to join us.