ZOLDNews

25 Jan 2016 FY2016 JSPS Postdoctoral Fellowship (Long Term)

2016 JSPS Postdoctoral Fellowship (Long Term)
For a 12 to 24 month research visit to Japan.
Eligibilty is limited to the natural sciences and UK and EU citizens.
Fellowships should start between 1 September to 30 November 2016.
Applications should be sent to the Royal Society
Deadline: Monday 14th March 2016

JSPS- British Academy Joint Seminar: Growing Cities, Divided Cities?

Wednesday 27th January 2016, the British Academy London (by invitation only)

21 Jan 2016 FY2016 JSPS London call for BRIDGE Fellowship Applications
Closing date: Monday 22nd February 2016
Visit start period: Between July 2016 to the end of March 2017
Application Guidelines and Form

15 Jan 2016 Japan Day at University College London on 5th February 2016
Date and time of event: 10:30-16:00, Friday, 5th February 2016
Venue: UCL Pavilion and UCL South Cloister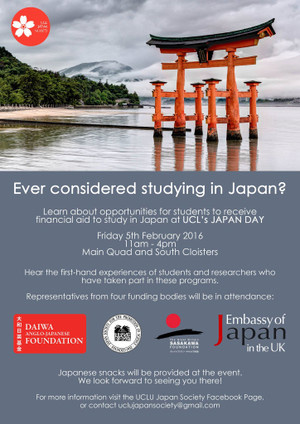 [ read more... ]

13 Jan 2016 JSPS Programme Information Event at City University London

Time and Date of Event: 14:30 - 15:30, Wednesday 20th January, 2016
Venue: Room AG01, College Building