News

30 Nov 2017 Newsletter No.54 (Aug-Oct 2017) now available


The latest issue of JSPS London's newsletter is now available online. To view the publication click here. PDF(1.8MB).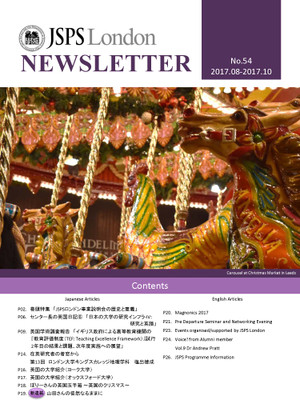 17 Nov 2017 Experience Japan Exhibition 2017

The Experience Japan Exhibition will be held at the Royal Society in London on Saturday, 18th November 2017, introducing various study and work opportunities in Japan. This year JSPS will run a session 'Conducting Research in Japan' where you can learn about JSPS programmes as well as hear accounts of research life in Japan from our alumni.
The event is hosted by Keio University, co-hosted by the British Council, and supported by JSPS and other funding agencies.
Event Programme and Registration

16 Nov 2017 JSPS Programme Information Event at the University of the West of England, Bristol

Time and Date of Event: 14:30 - 15:30, Wednesday 6th December, 2017
Venue: Room 2Q49 Frenchay Campus

07 Nov 2017 JSPS SUMMER PROGRAMME 2018 FOR MPhil OR PhD STUDENTS

JSPS Summer Programme 2018
Application Deadline: Monday 15th January 2018
Fellowship to take place during fixed period: 12 June to 22 August 2018
Applications should be sent to the British Council Tokyo. Application guidelines and form are available on their website here:
https://www.britishcouncil.jp/en/programmes/higher-education/support-researchers
For any Enquiries please e-mail: science@britishcouncil.or.jp
[ read more... ]