ZOLDNews

14 Dec 2011 Pre-Departure Seminar and Alumni Evening 21/10/2011  

On 21st October 2011 a Pre-Departure Seminar for 3 categories of JSPS Awardees; Postdoctoral Fellowship Short Term and Standard Term and Invitation Fellowship awardees was held in the lecture hall of the JSPS London office building.
The purpose of the event is to help our newly awarded fellows get the most out of the research trip they are about to embark on in Japan. The seminar started with welcoming remarks from the Director of JSPS London, Professor Kozo Hiramatsu. JSPS London was also very pleased that the President of Kyoto University, Professor Hiroshi Matsumoto could attend and make some remarks. He spoke about the importance of international collaborations in science to tackle problems that occur on different levels and that hard work will reap many rewards. This was followed by a short self-introduction by each participant so similar areas of research and institutions being visited in Japan could be linked. This time a significant number of awardees will be visiting Tokyo, Osaka and Nagoya Universities. The seminar was presided over by Ms. Polly Watson, International Programme Coordinator of JSPS London who spoke about the different presentations that were to follow.
The first presentation by Mr. Tomo Saito, Deputy Director gave an essential introduction to JSPS and the kinds of assistance provided to Fellows. The next presentation was given by a past JSPS fellow and active member of the UK-JSPS Alumni association, Dr. Alessandro Devoto of the School of Biological Sciences, Royal Holloway, University of London. She gave very thoughtful and practical advice about living in Japan including some of the problems commonly experienced by overseas researchers and advised how best to overcome them.
In the final part of the programme, JSPS London was very pleased to have two guest speakers from other distinguished funding organizations present to speak about further funding opportunities to do research in Japan. They were Dr. Hans Hagen, Scheme Manager, Grants of the Royal Society and Dr. Andy Boyce, International Relations Manager of the BBSRC.
The seminar ended with a question and answer session giving participants the chance to raise any concerns about JSPS programmes. Areas covered included obtaining visas, accommodation, payment of allowances and options to take temporary leave in the event of a natural disaster.
A link to each presentation given during the seminar can be found below:
Introduction to JSPS by Mr. Tomo Saito, Deputy Director of JSPS London
Research Experiences in Japan from a Past JSPS Fellow by Dr. Alessandra Devoto, School of Biological Sciences, Royal Holloway, University of London
The Royal Society's Exchanges and Collaborations with Japan by Dr. Hans Hagen, Scheme Manager, Grants
BBSRC's Funding Opportunities for Research Visits to Japan by Dr. Andy Boyce, International Relations Manager
Introduction to the UK-JSPS Alumni Association by Dr. Martyn Kingsbury, UK-JSPS Alumni Association Chair
Guest Speakers: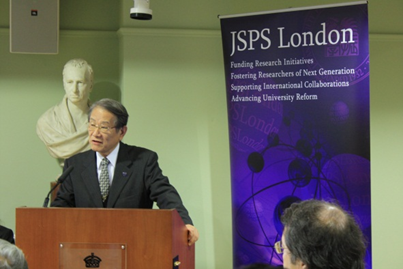 Professor Hiroshi Matsumoto, President, Kyoto University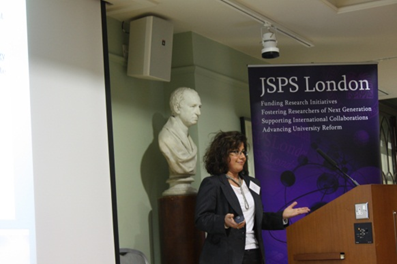 Dr. Alessandra Devoto, School of Biological Sciences, Royal Holloway, University of London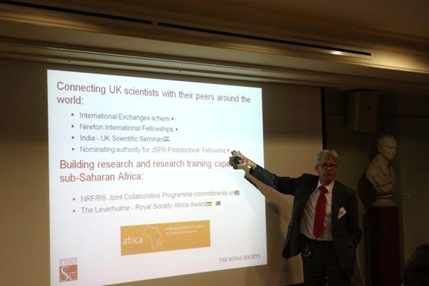 Dr. Hans Hagen, Scheme Manager, Grants, The Royal Society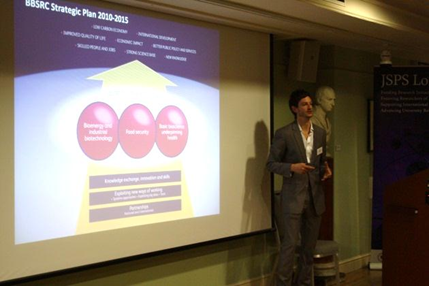 Dr. Andy Boyce, International Relations Manager, BBSRC
Comments from attendees:
"The meeting was held under a nice, friendly atmosphere created by JSPS staff, awardees and people from the UK-JSPS Alumni association. From the beginning, all my nerves and doubts disappeared and I started to get involved in the "Japanese experience". All the awarded people agreed that the meeting was very well organized by the staff of JSPS choosing very carefully the details of the meeting (decoration, program, speakers, buffet…) and special guests. During the meeting all my questions were answered by the presentations and staff of JSPS, especially Ms Polly Watson. Also, speakers provided useful information about the role of JSPS in Japan and worldwide and about cultural aspects and the Japanese language in a brief guide of how to live in Japan. I felt like they knew beforehand which kind of doubts and questions we had. When the meeting finished and I came back to York by train I was very relax having in my mind the idea that everything will go well."
Dr. Alejandro Gomez Roca, Department of Physics, University of York
"The Pre-departure seminar was useful not only in giving those who had not been to Japan an idea of what to expect as visiting scholars, but also enabled new fellows to interact with alumni and each other. Most of all I was impressed with the breadth of scientific disciplines sponsored by the Society; I was surprised and delighted to hear about research into artificial corneas, oceanography, Jomon pottery, and the experience of sound, among others. It was an enjoyable and a very helpful introduction to JSPS and the many types of research and researchers it supports."
Ms. Caitlin Meagher, Institute of Social and Cultural Anthropology, University of Oxford
After the pre-departure seminar, the UK-JSPS Alumni Association held an alumni evening for networking among members and new JSPS fellows in a relaxed atmosphere. Dr. Martyn Kingsbury, the Chair of the UK-JSPS Alumni Association gave a short presentation in which he explained about the expanding range of activities and support given to members and encouraged the newest fellows to join the association on their return to the UK.
An award ceremony then took place for those granted a UK-JSPS Alumni Association award in FY 2011. These were either the re-visitation programmes called the Furusato Award or Bridge Fellowship which supports individual long and short research trips to Japan or the Symposium Scheme award, that supports a UK-Japan event at institutional level. During the ceremony, each awardee was invited to comment on their achievements made using one of these sources of funding.
In Fiscal Year 2011 the awardees were as follows:
FY2011 FURUSATO AWARDEES:
1st Call (January):
1. Dr. Miranda Anderson Department of English Literature, University of Edinburgh
Visiting: Dr. Tamami Fukushi, Centre for Research and Development, Japan Science and Technology Agency
2. Dr. Robert Edgington London Centre for Nanotechnology, University College London
Visiting: Professor Hiroshi Kawarada, Department of Electronic and Photonic Systems, Waseda University
3. Dr. Zenobia Lewis School of Life Sciences, University of Liverpool
Visiting: Professor Takahisa Miyatake, Graduate School of Environmental Science, Okayama University
4. Dr. Alex RohzinDepartment of Electronic Engineering, Aston University
Visiting: Associate Professor and Group Director Keitaro Yoshimoto, Department of Life Sciences, Graduate School of Arts and Sciences, University of Tokyo
2nd Call (August):
1. Dr. Abbi Hamed Department of Mechanical Engineering, Imperial College London
Visiting: Associate Professor Ken Masamune, Graduate School of Information Science and Technology, University of Tokyo
2. Dr. Zongbo Shi School of Geography, Earth and Environmental Sciences, Birmingham University
Visiting: Professor Daizhou Zhang, Faculty of Environmental and Symbiotic Sciences, Kumamoto Prefectural University
FY2011 BRIDGE FELLOWSHIP AWARDEES:
1. Professor Chitta ChoudhuryInternational Centre for Tropical Oral Health, Poole Hospital NHS, Bournemouth University
Visiting: Professor and Chairman Tadaaki Kirita, Department of Oral and Maxillofacial Surgery, Nara Medical University
2. Dr. Rupert Cox Department of Social Anthropology, University of Manchester
Visiting: Associate Professor Atsushi Nishimura, Department of Media Information Engineering, Okinawa National College of Technology
FY2011 UK-JSPS Alumni Association Symposium Scheme Awardee:
1. Professor Andrew QuantockSchool of Optometry and Vision Sciences, Cardiff University
Title: The Cornea and Tissue Engineering
Co Japanese Scientific Lead: Professor Shigeru Kinoshita, Chairman, Department of Ophthalmology, Kyoto Prefectural University of Medicine
Receiving their awards: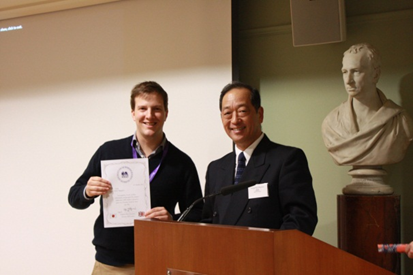 Furusato Awardee: Dr. Robert Edgington, University College London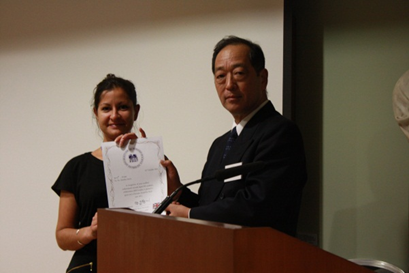 Furusato Awardee: Dr. Zenobia Lewis, University of Liverpool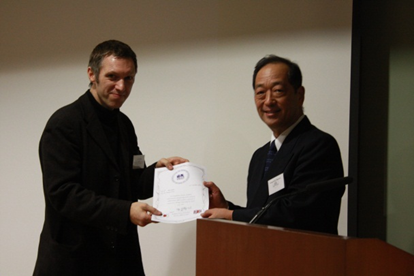 Bridge Fellowship Awardee: Dr. Rupert Cox,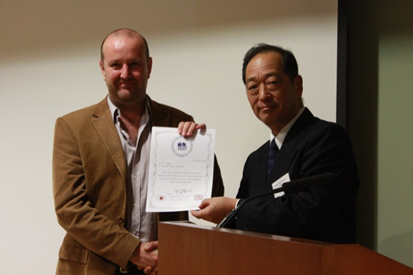 Symposium Scheme Awardee: Professor Andrew Quantock, University of Cardiff
After the award ceremony a special lecture took place from Dr. Justyn Regini, School of Optometry and Vision Sciences, Cardiff University. He spoke about the changing vision of the impressionist Claude Monet as seen through his paintings, a topic which drew a lot of interest from the audience.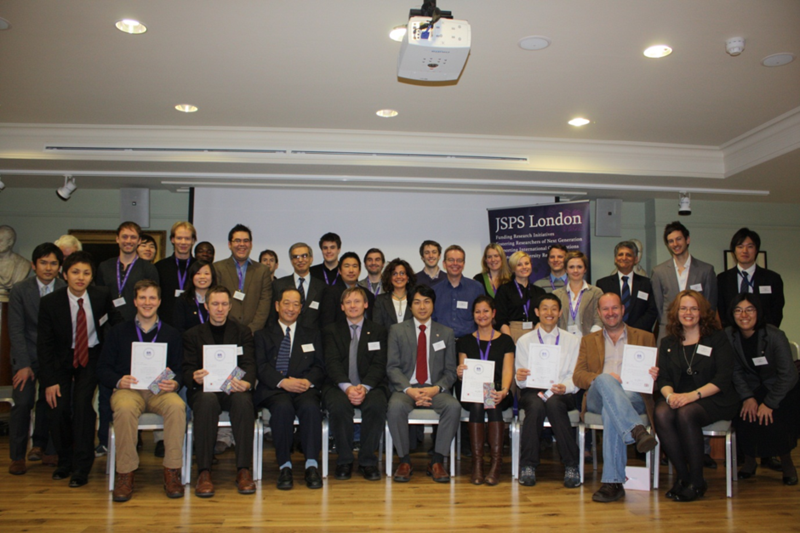 Finally, the UK-JSPS Alumni Association wishes all of the newest JSPS fellows a successful trip to Japan.