News

14 Mar 2018 Millennium Science Forum

Friday 9th November 2018
Venue: The British Embassy in Tokyo

The Millennium Science Froum is held annually at the Britain Embassy in Tokyo with distinguished Japanese and Britain speakers from the scientific community.
The Millennium Science Forum promotes the "*1 Sir Martin Wood Prize" which is awarded to a young researcher who has made an outstanding contribution in condensed matter science.

*1 Sir Martin Wood is the founder and Honorary President of Oxford Instruments plc, the scientific research equipment manufacturer that supports the prize.

12 Mar 2018 Newsletter No.55 (Nov 2017-Jan 2018) now available


The latest issue of JSPS London's newsletter is now available online. To view the publication click here. PDF(2.3MB).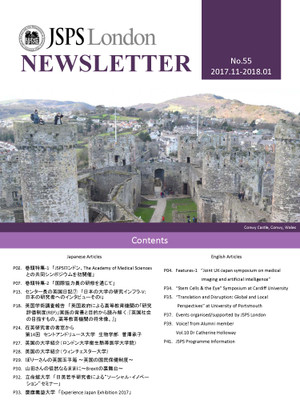 19 Feb 2018 06 MAR/ Ritsumeikan Seminar Series: 電力システム改革と再生可能エネルギー普及は両立するか

SymposiumRitsumeikan Seminar Series:
電力システム改革と再生可能エネルギー普及は両立するか
Date and Time:
Tuesday 6th March 2018
18:15 Doors Open
18:30 Seminar Starts
19:30 Reception Starts
Venue: ブルネイ・ギャラリー202号室(Brunei Gallery, SOAS, University of London)
Lecturer: 立命館大学経済学教授 島田幸司(しまだ こうじ)
Professor Koji SHIMADA, College of Economics, Ritsumeikan University
Language:
Japanese
Registration: Please sign up for the event at the following website:
https://www.eventbrite.co.uk/e/42875601077
The event flyer is available here.
This event is supported by JSPS.


第15回(平成30年度)日本学術振興会賞推薦募集について
日本学術振興会では、研究者養成事業の一環として、
「日本学術振興会賞」を設け、優れた若手研究者を顕彰しています。
この賞は、創造性に富み優れた研究能力を有する若手研究者を顕彰し、
その研究意欲を高め、研究の発展を支援することにより、
我が国の学術研究の水準を世界のトップレベルにおいて発展させることを
目的としています。
(本賞は、海外在住の日本国籍を有する研究者も対象としています。
また、海外在住の日本国籍を有する研究者からの個人推薦も受け付けて
います。)
受付期間:平成30年4月6日(金)~11日(水)17:00
対象分野:人文学、社会科学及び自然科学にわたる全分野
対象者 :45歳未満の博士号取得者(博士の学位を取得した者と同等以上の学術研究能力を有する者を含む)
※詳しくはHPをご覧ください。
◆日本学術振興会賞ページ(URL)
https://www.jsps.go.jp/jsps-prize/index.html

16 Jan 2018 JSPS - Academy of Medical Sciences Collaborative Symposium: Medical Imaging and Artificial Intelligence

Tuesday 23rd Janaury 2018
Symposium: 09:00 - 16:00, The Academy of Medical Sciences, London
Reception: 18:00 - 20:00, The Embassy of Japan in the UK, London

10 Jan 2018 Cell Competition in Development and Cancer

Date and Venue: 14 February 2018, XLG1 Chemistry LT, Christopher Ingold Building, University College London
For more information about the event programme and to register please visit the following web link:
www.uk-japan-cell-competition-sympos.site
This event is supported by the JSPS London Symposium and Seminar Scheme.

22 Dec 2017 JSPS Programme Information Event at Bath Spa University

Time and Date of Event: 13:00 to 14:00, Monday, 5th February 2018
Venue: Seminar Room NP.CP.G12, Ground Floor, Compton Building, Newton Park Campus

21 Dec 2017 FY2018 JSPS London BRIDGE Fellowship Call for Applications

Closing date: Wednesday 7th February 2018
Visit start period: Between July 2018 to the end of March 2019
Application Guidelines and Form

13 Dec 2017 EPSRC-STFC-JSPS Symposium: Innovation in materials characterization: UK-Japan studies on energy-related materials using Synchrotron radiation

Date: Thursday 22 February 2018
Venue: Near the Harwell Science and Innovation Campus, Oxfordshire.

The purpose of this symposium is to bring together researchers in the UK and Japan working on characterisation of materials for energy applications and will provide a unique opportunity to:
• network with researchers in the UK and Japan working on characterisation of energy related materials and form new connections;
• hear about the cutting edge research enabled by synchrotron facilities in the UK and Japan;
• engage with EPSRC, ISIS and JSPS on their current initiatives and activities enabling international collaboration in this area.
If you would like to attend, please complete the registration form at the following web link:
http://www.smartsurvey.co.uk/s/UKJSPS/
* The closing date for registration is Thursday 18 January 2018.
For enquiries please contact: PhysicalSciences@epsrc.ac.uk.

2018 Master's and Doctoral Programmes at UNU-IAS in Tokyo

2018 Master's and Doctoral Programmes at UNU-IAS in Tokyo
The United Nations University Institute for the Advanced Study of Sustainability (UNU-IAS) is now accepting applications for September 2018 admission to our postgraduate degree programmes: the Master of Science in Sustainability and the PhD in Sustainability Science. The application deadlines are 28 February 2018 for the master's programme, and 27 April 2018 for the doctoral programme. Both programmes start in September 2018.