JSPS London
Our History and Missions
The JSPS London office was opened in 1994 and since then has been promoting and supporting the development of international research collaboration with UK and Japan at the centre. JSPS London carries out a wide range of activities and working with partner organisations promotes long term linkages between UK based researchers and Japan.
Message from Our Director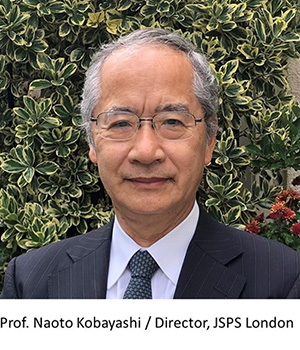 JSPS London was established in 1994 to support and facilitate Japan-UK research collaboration through the strengthening of ties between Japanese and UK university.
We are open to supporting all research fields from basic to applied fields across the humanities, social sciences and natural sciences and we mainly support bottom-up research driven by researchers'curiosity.
We also help to create and develop new successful relationships between academic researchers of Japan and primarily the UK but also Ireland and a few other countries in Europe through a wide range of activities.
To achieve our purpose, it is necessary to work closely with partner organizations such as the Royal Society, the British Academy, the Research Councils, the British Council, as well as UK universities. We also work with the Embassy of Japan and other Japanese Governmental agencies in London such as the Japan External Trade Organization (JETRO), the Japan Foundation, the Japan Local Government Centre (JLGC) and the Japanese Chamber of Commerce and Industry (JCCI).
It is very important to foster a relationship of confidence and trust in the international scientific community through sustaining these strong linkages. Knowledge and technological breakthroughs thus attained will be essential to contribute to overcome our global problems. The UK has officially left the EU with BREXIT being realized in 2020. It is expected that this will bring about some changes in the UK society. In response to this situation, the UK is also seeking new ways of international research collaboration with countries other than the EU. In that sense, we believe that research collaboration between Japan and the UK will advance to a new stage in the near future. JSPS London will respond quickly to such movements and will continue to make efforts for the further development of international research collaboration between Japan and the UK.
Finally, let me introduce myself. My specialty is physics, and I have been conducting research on photonics, semiconductor materials, quantum beam science, etc. at AIST and Waseda University. In addition, I have recently conducted and managed on research strategy and evaluation. I have also been engaged in organizational research collaboration with some UK universities. I was appointed Director of JSPS London in May 2021, and I would like to make an effort in advancing towards a new stage of academic and research ties between Japan and the UK.