JSPS London
Our History and Missions
The JSPS London office was opened in 1994 and since then has been promoting and supporting the development of international research collaboration with UK and Japan at the centre. JSPS London carries out a wide range of activities and working with partner organisations promotes long term linkages between UK based researchers and Japan.
Message from Our Director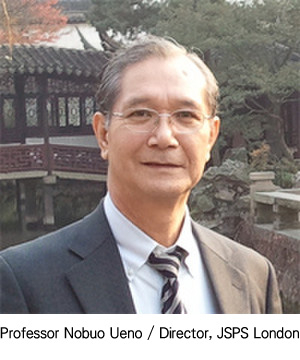 Firstly I would like to introduce myself and briefly about my specialist field of research, then I will describe our aspiration for the mission of JSPS London.
I have been working on organic semiconductors; in particular on electronic states of organic molecular systems with valuable electronic functions using photoelectron spectroscopy. I am originally from the field of solid-state physics but it is better to write chemical physics or physical chemistry as my specialist field, as I have been working in the interdisciplinary area between physics and chemistry and bridging the boundaries of these two areas. The bio-related molecular system was therefore an important target of my research. I was the leader of the 21st Century COE and Global COE programme at Chiba University. I am a retired professor of the Graduate School of Advanced Integration Science, Chiba University since the end of March 2014, and was designated a distinguished professor and emeritus professor of Chiba University on the 1st April 2014. On the 1st May 2016 I became the director of JSPS London.
JSPS London was established in 1994 to support and facilitate Japan-UK research collaboration through strengthened Japanese and UK university linkages. I should write here that in accordance with the principle aim of JSPS, we are open to supporting all research fields from basic to applied fields across the humanities, social sciences and natural sciences and we support bottom-up research driven by researchers' curiosity. We also help to create and develop new successful relationships between academic researchers of Japan and the UK primarily and also Ireland and a few other countries through a wide range of activities, and contribute to enhance the free-flow of cutting edge research. For example, we organize scientific symposia, hold JSPS programme information events at universities throughout the UK and Ireland, and award early career UK researchers JSPS Fellowships to allow them to carry out collaborative work in Japan. We also support the alumni association for former UK and Irish JSPS Fellows and the association of Japanese researchers Based in the UK (JBUK). In FY2016 we have launched a new programme called the JBUK Japan Award to strengthen our support to the JBUK network. We are also planning to increase our support to the alumni association by igniting new collaborative research among the alumni members.
To achieve our aims it is very necessary to work closely with partner organizations such as the Royal Society, the British Academy, the Research Councils, the British Council, as well as UK universities. We also work with the Embassy of Japan and other Japanese Governmental agencies in London such as the Japan External Trade Organization (JETRO), the Japan Foundation, the Japan Local Government Centre (JLGC), Japan Sport Council (JSC) and the Japanese Chamber of Commerce and Industry (JCCI).
We make it our principle aim to foster a relationship of confidence and trust in the international scientific community. I believe that knowledge and technological breakthroughs, which have been attained through sustaining these strong linkages, will overcome global problems.